Aslan Khalid Alievich Maskhadov
---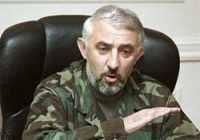 Alsan khalid Alievich Maskhadov
(
Аслан
Алиевич
Масхадов
)
Alsan Maskhadov was born on 21 September 1951 in Shakai, Kazakh Soviet Socialist Republic (presently Kazakhstan), in a deported Chechen family of the Alleroi teip. In 1957 Aslan with his parents returned to Chechnya where they settled in Zebir-Yurt, Nadterechny district.
In 1969 he entered the Tbilisi Higher Artillery College from where he graduated in 1972 and in 1981 he graduated with honours from the Leningrad Kalinin Higher Artillery College.
Maskhadov commanded a platoon in 1972-78. He next was a battery commander and chief of staff of a battalion in the Far East. In 1981-86 he served in Szeged, Hungary, with the Southern Group of Troops and then from 1986 in the Baltic Military District, first as commander of a self-propelled artillery regiment and from the autumn of 1990 as chief of staff of missile and artillery forces of the Vilnius, Lithuania, garrison and deputy commander of the 7th division. In January 1991 Aslan took part in the "Vilnius events" (the seizure of the television tower by Soviet troops).
Aslan Maskhadov chaired the officers' assembly of the division. A conflict with the new division commander, Frolov, on the threshold of the division's transfer to the Leningrad military district in the autumn of 1992 resulted in Maskhadov's resignation in the rank of colonel. During his service in the Soviet Army Aslan was presented with two orders For Service to Homeland.
Aslan Maskhadov returned to Chechnya in November 1992. He was at the head of CRI civil defence between late 1992 and November 1993.
In the summer of 1993 Aslan took part in raids on anti-Dudayev opposition in the Urus-Martan, Nadterechny, and Gudermes districts. An unsuccessful anti-Dudayev mutiny in November 1993 resulted in the dismissal of Viskhan Shakhabov as chief of staff of the armed forces and Maskhadov's appointment as acting chief of staff and, in March 1994, as chief of staff.
In December 1994 to January 1995 Maskhadov organised defence of the Presidential Palace in Grozny as First Deputy Chairman of the CRI State Defence Council (CRI President Dzhokhar Dudayev was the chairman ) and Chief of Staff.
In February 1995 Dudayev promoted Aslan to division general.
From June 1995 he took part in peace talks in Grozny to resolve the Chechnya crisis as a member of the Dudayev administration and head of the working commission on a package of military issues. In June 1996 at negotiations in Nazran, Ingushetia, Maskhadov, on behalf of the CRI administration, signed the Protocol of the Commission's Meeting on Ceasefire and Measures to Resolve the Armed Conflict in the CRI. In August 1996, after Grozny's seizure by Chechen units he repeatedly held talks with Alexander Lebed, which led to signing the Khasavyurt Accords on 31 August 1996.
On 17 October 1996 Maskhadov was appointed Prime Minister of Ichkeria, while he also remained Chief of Staff and Defence Minister.
Aslan Maskhadov nominated himself for president of Ichkeria on 3 December 1996. Vakha Arsanov ran as vice president. Maskhadov won the presidential election on 26 January 1997 gaining 59.1% of the vote and was inaugurated on 12 February 1997. At the same time he assumed the office of prime minister and abolished the office of defence minister he had occupied since late 1996. Maskhadov remained commander-in-chief of the republican armed forces though.
In January 1997 he changed his first name Aslan to Khalid (Aslan is not a Muslim name).
Maskhadov addressed the Parliament of Chechnya in October 1997 with a request to invest him with special powers for two years, including the right to completely or partially suspend Ichkeria's legislation appoint and dismiss government officials and issue decrees and orders that are not contrary to the sovereignty and independence of Ichkeria. The Parliament rejected this request of the President in January 1998.
On 3 February 1999, he introduced in the CRI "complete Sharia rule", suspended the lawmaking activity of the parliament and abolished the office of vice president dismissing Vakha Arsanov. Maskhadov created a State Commission on the Development of a Sharia Constitution which was chaired by Akhmed Zakaev, Minister of Information, Culture and Communications. He also formed a new republican legislature, the CRI State Council. The State Council was supposed to include opposition leaders Shamil Basayev, Ruslan Gelayev, Khunkar-Pasha Israpilov and ex-president Zelimkhan Yandarbiyev, but they refused to accept these appointments.
At its first meeting on 9 February 1999, the State Council confirmed Aslan Maskhadov as head of state and elected him chairman of the Council.
Maskhadov survived two attempts on his life on 21 March and 10 April 1999 in which the attackers used anti-tank missiles and bombs.
In the summer of 1999, he condemned the Basayev-led raid on Dagestan. Since the beginning of the second Chechen war, Aslan Maskhadov has been chairman of the CRI State Defence Committee. The Russian authorities broke off relations with him and, after Russian forces seized Grozny, Maskhadov went underground.
On 18 February 2000, the Russian Prosecutor's Office charged Aslan Maskhadov with organising and participating in an armed revolt. Legal proceedings were instituted against him under Article 279 of the Criminal Code of the Russian Federation. Maskhadov was also charged with organising illegal armed formations and attempts on the life of law enforcement officers. He was put on the federal and, in 2002, international wanted list. The Russian Prosecutor General's Office indicted Maskhadov on more charges of armed attack on Ingushetia and Grozny in the summer of 2004, including the hostage-taking in Beslan, North Ossetia. In September 2004 Maskhadov himself claimed he was not involved in the Beslan attack and condemned this bloody act of terrorism.
On 27 January 2001, the new official Chechen government (Kadyrov, Gantamirov) announced that the legitimate term of Maskhadov's presidency was over. Maskhadov himself refused to agree with that and claimed he had been elected for five years according to the Chechen Constitution. Besides, he said, his powers are automatically extended in time of war.
Aslan Maskhadov is the author of a book titled Honour above Life (Grozny, February 1997).
He married at the age of 17. His wife Kusama holds a graduate degree in teaching. There is a son, Anzor, who took part in military action during the first war and a daughter, Fatima. Their grandson was born on 4 May 1994 and named Shamil after Shamil Basayev. There is also a granddaughter.

President Aslan Maskhadov of the Chechen Republic of Ichkeria was on 8 March 2005 murdered as a result of a military operation carried out by special forces of the Russian Federal Security Service (FSB) in Tolstoy-Yurt, Grozny district, Chechnya.
---


Прослушать
Version: MP3
File Size: 1.25 MB

---


Прослушать
Version: MP3
File Size: 2.4 MB

---


Прослушать
Version: MP3
File Size: 261 kB
---


Прослушать
Version: MP3
File Size: 2.32 MB
---


Прослушать
Version: MP3
File Size: 1.13 MB
---


Прослушать
Version: MP3
File Size: 2.08 MB
---


Прослушать
Version: MP3
File Size: 1.59 MB

Шура Западного Фронта
---

Просмотреть
Часть 1,
Часть 2
Обращение Президента Масхадова к народу (аудио, на чеченском языке)
---

Прослушать
Интервью президента ЧРИ Аслана Масхадова - октябрь 2003
---

Просмотреть на русском

Просмотреть на чеченском
ГКО - Маджлисуль Шура, 23.08.2002
---

Просмотреть
Часть 1,
Часть 2
Пресс-конференция президента Масхадова и Шамиля Басаева (июль 2002г.)
---

Просмотреть
Часть 1,
Часть 2,
Часть 3
---
Abu Al-Walid
---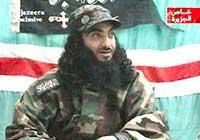 Abd Al-Aziz Bin Ali Bin Said Al Said Al-Ghamdi, known as Abu Al-Walid
, took over leadership of Arab fighters in Chechnya after the death of Khattab (Samer Bin Saleh Bin Abdullah Al-Swelim) in 2002. Al-Walid comes from the town of Al-Hall, located in the southern province of Baljarshi province, near Jeddah. According to al-Watan, Al-Walid grew up in a pious family, the son of a well known Imam. His brothers told Al-Watan that Al-Walid enjoyed spending his time reading religious books and was conscientious about his lessons studying the Qur'an.He went to Afghanistan in 1986 at age sixteen.While in Afghanistan, Al-Walid spent two years training in the Maktb Al Khadamat (Office of Services), a center created by Abdullah Azzam for organizing the inflow of Arab volunteers to Afghanistan by registering and distributing them to training camps.Al-Walid took leave from the fighting to return to Saudi Arabia for three months between 1987 and 1988. He fought for another two more years in Afghanistan before finally coming back to Saudi Arabia for treatment to an injured left hand at King Fahd hospital in the Saudi city of Khobar. After spending three months recovering from his surgery, Al-Walid left once more for Afghanistan.In the early 1990s Al-Walid traveled to Afghanistan, Bosnia and Tajikistan, fighting in the Balkans and Central Asia. His jihadi career led him to Tajikistan, where he participated in the Tajik civil war (1994-1995). He later traveled to Bosnia to fight against the Bosnian Serbs. Al-Walid left the Balkans in 1995, taking up the cause of the Chechens by joining the group of Arab fighters serving under the Saudi fighter Khattab. He adapted to Chechen society by marrying a Chechen woman, and now has two children through this marriage.
see Abu Al-Walid pictures
Abu Walid
---


Download Now


Version: WMV
File Size: 29 MB
أبو الوليد يقصف طائرة روسية
---

Download Now
Version: WMV

File Size: 809.5 KB

---
Amir Khattab
---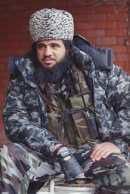 Samir Saleh Abdullah Al-Suwailem
Amir Khattab was a native of Saudi Arabia. His father is a Saudi. The family of Khattab belongs to one of the most ancient clans of Arabia. His mother is Turkish and a native of Turkey. Khattab has many relatives. Back home his family is respected and considered pretty wealthy. According to some information, Khattab has 8 brothers. When he was 15, his parents decided to send him to the United States to study. But the young man left the family and motivated his decision by the right to make his own choice and take part in Jihad, according to the Shari'ah. Even though his older brother was trying to talk him out of it, Khattab left for Afghanistan as a volunteer. For several years he was fighting against the troops of Soviet invaders. This is where he was wounded. After the Soviet troops withdrew, Khattab returned home. But soon after that he went back to Afghanistan to help Tajik and Uzbek refugees. As Khattab himself said, in December 1994 he found out about the war in the Caucasus from CNN reports. He knew nothing about Chechnya before that, except for the stories about Imam Shamil, who is buried in Medina. Khattab was telling that he made a decision to go to Chechnya after he saw on TV how Chechen Mujahideen were proclaiming «Allah Akbar!» (God is Great!). Khattab arrived to Chechnya with two of his companions in the spring of 1995, and had not left Chechnya ever since.
Khattab was an active participant of war operations against the troops of Russian invaders, starting March 1995 until March 2002. In 1996 on the order from President of CRI he was appointed as Chief of Military Training Center of Central Front of CRI Armed Forces. Khattab held the post of the Military Commander of Majlis al-Shura of the Mujahideen of Ichkeria and Dagestan. He was the Deputy of Shamil Basayev (Amir of Majlis al-Shura). Khattab was in command of the Islamic International Brigade. He was granted the highest awards of the Chechen State. Married to a Darginian woman, a native of the village of Karamakhi, Dagestan, and has two children.

Life of Amir Khattab Part1

---
Version: MPEG
File Size: 600 MB

Life of Amir Khattab Part2
---
Version: MPEG
File Size: 468 MB
The Janaza of Ibn Ul-Khattab
---


Download Now
Version:
REAL MEDIA
File Size:
1.1 MB

In the memory of Amir Khattab (Flash animation)
---

Download Now
Version: .ZIP
File Size: 1.2 MB