Abdul-Halim Sadulayev

---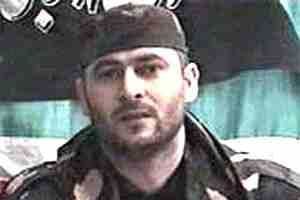 Sheikh Abdul-Halim: Abdul-Halim Abu-Salamovich Sadulayev (Шейх Абдул-Халим).
A Chechen, b.1967. Born and raised in the city of Argun (12 km away from Chechen capital Jokhar). Belongs to Chechen clan of Ustradoi (Ustargardoi is considered as an independent branch of the Belgatoi Clan). Ancestors of Ustradoi Clan are considered to be founders of the city of Argun (Ustradoila, Ustargardoi-Evla).
He was taught by prominent Chechen theologians. Active participant of Islamic revival in Chechnya. He became a teacher by teaching Islam to the youth. Abdul-Halim was studying at the Chechen University, Department of Philology, but he had no time to graduate because the war started. He speaks Chechen, Arabic and Russian fluently.
President Abdul-Halim is a veteran of the first Russian-Chechen war.
During the period between the first war and the second war he was delivering Islamic sermons on Chechen TV. He was also heading Islamic Jamaat (Military Council) of the city of Argun. Sheikh Abdul-Halim was also delivering Islamic lectures in various regions of . For some time he used to be an imam of the Argun Mosque.
In 1999 on the order of President Maskhadov he was appointed as a member of State Commission of Constitutional Shariah Reform.
When the second Russian-Chechen war started he headed armed units of Argun People's Militia, which joined CRI Armed Forces.
In 2002 during the broad session of State Defence Council of CRI (the supreme governing body of CRI during the period of war) Abdul-Halim was appointed as Chairman of the Shariah Committee of SDC and the Head of the Shariah Court of CRI.
Since the moment of death of President of CRI Aslan Maskhadov, Abdul-Halim became the legitimate leader of the Chechen State – President of Chechen Republic of Ichkeria, Commander of CRI State Defence Council and Commander-In-Chief of CRI Armed Forces -- in accordance with his position that he held.
On the order of President Maskhadov, Sheikh Abdul-Halim was decorated with two medals of the Chechen State: the supreme decoration founded by First Chechen President Dzhokhar Dudayev, Koman Sii ('Honour of the Nation') and Medal of Valour 'Koman Turpal' ('Hero of the Nation').
In 2003 the invader's Spetznaz (Russian special forces) took the wife of Sheikh Abdul-Halim hostage. She was brutally murdered by Russian FSB agents after sadistic tortures when they were trying to find out where her husband was.

Интервью Президента ЧРИ Садулаева для радио «Свобода»
---

Просмотреть
Обращение президента ЧРИ А-Х. Садулаева к чеченскому народу
---

Просмотреть

Интервью Президента ЧРИ Садулаева для радио «Свобода»
---

Просмотреть
---
Shamil Salmanovich Basayev
---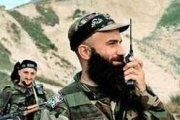 Shamil Salmanovich Basayev

(

ШамильСалмановичБасаев

)

(born January 14, 1965) is a Chechen warlord, politician and Chechnya's most famed contemporary national hero. Since 2003, Basayev has also used the pseudonym and title Abdallah Shamil Abu-Idris, Amir of the Brigade of Shahids 'Riyadus Salihiin'.
Shamil Basaev was born in the village of Dyshne-Vedeno, near Vedeno ancestry (Basaev is in fact a Russian surname, and the village of Dyshne-Vedeno where his ancestors resided was founded by Russian deserters during the , in south-eastern Chechnya, to parents of Russian Caucasian War). He was named after Imam Shamil, the last leader of anti-Russian Avar-Chechen forces in the Caucasian War. His family is said to have had a long history of involvement in Chechen resistance to Russian rule, and suffered reprisals in the process. His grandfather fought for the abortive attempt to create a breakaway North Caucasus Emirate after the Russian Revolution. Along with most of the rest of the Chechen population, the Basayevs were deported to Kazakhstan on the orders of Lavrenti Beria as a means of cutting off support to the insurgency and a collective punishment for Chechen separatists' collaboration with Nazi Germany. They were only allowed to return when the deportation order was lifted under Khrushchev in 1957 .Basayev graduated from school in Dyshne-Vedeno in 1982 and spent the next two years in the Soviet military serving as a firefighter. For the next four years, he worked at the Aksaiisky state farm in the Volgograd region of southern Russia before moving to Moscow. He attempted to enroll at the law faculty of the Moscow State University but failed, and instead entered the Moscow Engineering Institute of land management in 1987. However, he was expelled for poor grades in 1988. He subsequently worked as a computer salesman in Moscow, in partnership with a Chechen businessman named Supyan Taramov. Ironically, the two men ended up on opposite sides in the Chechen wars, during which Taramov sponsored a pro-Russian Chechen militia.
When Communist hardliners attempted to stage a coup in August 1991, Basayev allegedly joined supporters of Russian President Boris Yeltsin on the barricades around the Russian White House in central Moscow, armed with grenades. This has never been verified, and it is not clear what he was doing there if present. It is noteworthy that the pro-Yeltsin chairman of the Supreme Soviet, Ruslan Khasbulatov, was himself a Chechen, and many other Chechens provided support for Yeltsin's platform.
A few months later in August 1991, the Chechen nationalist leader Dzhokhar Dudayev unilaterally declared independence from Russia. In response, Yeltsin announced a state of emergency and dispatched troops to the border of Chechnya. Dudaev's government mobilized 60,000 volunteers to defend against a possible Russian intervention. It is then that Basaev began his long and notorious career as a terrorist - seeking to draw international attention to the crisis, Shamil Basaev, Lom-Ali Chachayev, and the group's leader, Said-Ali Satuyev, a former airline pilot suffering from schizophrenia, hijacked an Aeroflot Tu-154 plane, en route from Mineralnye Vody in Russia to Ankara in Turkey on November 9, 1991, and threatened to blow up the airplane unless the state of emergency was lifted. The hijacking was resolved peacefully in Turkey, with the plane and passengers being allowed to return safely and the hijackers given safe passage back to Chechnya.
The following year, Basayev traveled to Abkhazia, a breakaway region of Georgia, to assist the local separatist movement against the Georgian government's attempts to regain control of the region. Basayev became the commander of a volunteer unit of pan-Caucasian nationalists, composed mainly of Chechens. Their involvement was crucial in the Abkhazian war and in October 1992 the Georgian government suffered a decisive military defeat, after which the entire ethnic Georgian population of the region was driven out in a large-scale outbreak of ethnic cleansing. Basayev's unit is claimed to have killed thousands of Georgian civilians in Sukhumi and the village Leselidze. It has been rumored that the volunteers were trained and supplied by some part of the Russian army (alternatively the GRU, or the VDV troops stationed there as peacekeepers), although no evidence to support these allegations has been found. In any case, Russia did not provide any resistance to the volunteers, which would later prove a mistake. Basayev's volunteer unit would go on to form the core of his experienced and battle-hardened "Abkhaz Battalion" in the first Chechen war.
Few authoritative accounts of Basayev's life after Abkhazia exist. According to some sources, Basayev moved on to Azerbaijan, where he aided Azerbaijani forces in their less-successful war against Armenian separatists in the enclave of Nagorno-Karabakh. After Azerbaijan, by some accounts he reputedly travelled to Afghanistan, making his first contacts with Al-Qaeda and other pan-Islamic fundamentalist organizations, as well as the Wahabbism sect, to which he would later convert. Other sources claim that after Abkhazia, Basayev moved to Chechnya and became a successful entrepreneur in the Chechen mafia, organizing train-car theft and drug dealing networks. While pro-Chechen sources claim that such allegations about Basayev's criminal activity have been disseminated by the Russian FSB and are untrue, no other explanation of Basayev's phenomenal personal wealth has been provided (before the second Chechen war started, Basayev owned several mansions in various Chechen cities, maintained a fleet of expensive cars, and financed his own private militia partly with his personal money).
Basayev in the First Chechen War
The First Chechen War began when Russian forces invaded Chechnya on December 11, 1994 to depose the government of Dzhokhar Dudayev. Basayev took an active role in the resistance, successfully commanding his "Abkhaz Battalion," now 2,000 strong, to inflict major losses on Russian forces in the battle for Grozny, Chechnya's capital, which lasted from December 1994 to February 1995. After capturing Grozny, the momentum changed in favor of the Russian forces, and by April Chechen forces had been pushed into the mountains around Ichkeria, with most of their materiel destroyed.
Basayev's "Abkhaz Battalion" suffered many casualties, particularly during battles around Vedeno in May when their ranks sank to as low as 200 men, a tenth of their numbers just five months earlier. At this time, Basayev also suffered a personal tragedy. Like in the battle for Grozny, Chechen fighters did not evacuate civilians from Basayev's hometown of Dyshne-Vedeno, placing their fighting positions in residential buildings and using the civilian population as human shields, demonstrating a brutality and lack of concern for civilian casualties that would become characteristic of both Chechen wars. On June 3, an artillery shell landed on Basayev's family home, killing eleven members of his immediate and extended family. Among them were his first wife (Basayev was and remains a practicing polygamist) and their children.
With the situation becoming increasingly desperate, Chechen forces resorted to a series of deadly terrorist attacks on Russian soil in an attempt to force a stop to the war. Basayev led the most famous such attack, the Budyonnovsk hospital hostage crisis in June 1995. Shamil's large band seized the Budyonnovsk hospital and the 1,600 people inside for a period of several days. In total, 129 people died and 415 were wounded. Although he failed in his demand for the removal of Russian forces from Chechnya, he did successfuly negotiate a stop to the Russian advance and an initiation of peace talks with the Russian government, saving the Chechen resistance by giving them time to regroup and recover. Basayev and his fighters were able to successfuly retreat back to Chechnya under cover of hostages. The media coverage surrounding the hostage-taking and Basayev's safe retreat propelled the then mostly unknown Basayev into the international spotlight, and made him Chechnya's most famed national hero overnight.
By 1996, he had been promoted to Commander of the Chechen Armed Forces. In August 1996, he led a successful operation to retake the Chechen capital Grozny. The Russian defence collapsed and the Yeltsin government sued for peace, bringing in former General Aleksandr Lebed as a negotiator. A peace agreement was concluded between the Chechens and Russians, under which the Chechens acquired de facto independence from Russia. He stepped down from his military position in December 1996 to run for president in Chechnya's second (and the Chechen Republic of Ichkeria's first) presidential elections. Basayev came in second place to Aslan Maskhadov, obtaining 23.5% of the votes.
Around January 1, 1998 he was appointed prime minister of Chechnya by president Aslan Maskhadov for a six month term, after which he resigned.
Basayev in the Second Chechen War
In August 1999, Basayev and Ibn-ul-Khattab led a 2000-strong army of Islamic fundamentalists in an unsuccessful attempt to aid Dagestani Wahabbists to take over the neighboring Republic of Dagestan and establish a new Chechen-Dagestan Islamic republic (with a later invasion of Ingushetia planned as well). By the end of the month, Russian forces had managed to repel the invasion and inflict major losses on the Basayev-Khattab forces. In early September, a series of bombings of Russian apartment blocks took place, killing 293 people. The attacks were blamed on Chechen terrorists, although this attribution remains controversial. Although Basayev and Khattab denied responsibility, Khattab had earlier threatend to launch terrorist attacks against Russian civilians in a videotaped address made shortly after the August setbacks, and Basayev himself made similar threats after the bombings. The Russian government blamed the Chechen government for allowing Basayev to use Chechnya as a base. Chechen president Aslan Maskhadov denied any involvement in the attacks, but at the same time took no actions to stop Basayev or Khattab. The Russian prime minister, Vladimir Putin, promised a harsh crackdown on Chechen terrorists: "We'll get them anywhere. If we find terrorists in the shithouse, then we'll blast them in the shithouse. That's all there is to it." Putin kept his promise; by the end of September the Second Chechen War was underway.
During the rebel withdrawal from Grozny in January 2000 Basayev lost a foot after stepping on a landmine. Somewhat morbidly, the operation to amputate his foot was videotaped and later televised by Russia's NTV network and Reuters, showing his foot being removed by doctors using a local anaesthetic while the shaven-headed Basayev watched impassively. Despite this injury, Basayev eluded Russian capture together with other rebels by hiding in forests and mountains. He welcomed assistance from foreign Islamist groups including Al-Qaeda, and the Taleban of Afghanistan, and encouraged foreign fighters to join the Chechen cause.
In January 2002, Basayev's father Salman Basayev was reputedly killed by Russian forces.[1] This has not been independently confirmed.
Around November 2, 2002 Basayev said on a rebel website that he was responsible for the Moscow theatre siege. He also tendered his resignation from all posts in Maskhadov's deposed government apart from the reconnaissance and sabotage battalion. He defended the operation but asked Maskhadov for forgiveness for not informing him of it.
In 2004 he was accused of commanding a raid on the Russian republic of Ingushetia. In fact, he was shown in a video made of the raid, in which he led an army of 570 militants. Around ninety people died in this attack. On May 9, 2004 the pro-Russian Chechen president Akhmad Kadyrov was killed in a bomb attack for which Basayev later claimed responsibility.
Shamil Basayev claimed responsibility for the Beslan school massacre in September 2004 in which over 350 people, most of them children, were killed and hundreds more injured. The Russian government has put a bounty of 300m roubles ($10m) for information leading to his capture. Basayev himself did not participate in the seizure of the school in Beslan, but claims to have organized and financed the attack (proudly boasting that the whole operation cost only 8,000 euro). Newspaper reports have also linked his Ingush deputy, Magomet Yevloyev, to the school attack. Aslan Maskhadov has been implicated in the attack as well, although he officially denounced involvement and the attack itself (curiously, without distancing himself from Basayev).
Basayev also claimed responsibility for the attacks against civilians during the previous week, in which a metro station in Moscow was bombed, killing ten people, and two airliners were blown up by suicide bombers, killing eighty nine people.
On February 3, 2005, British Channel 4 announced that it will air Shamil Basayev's interview. In response Russian Foreign Ministry said that the broadcast could aid terrorists in achieving their goals and demanded that the British Government call off the broadcast. But the British Foreign Office replied that it can not intervene in affairs of a private TV channel and the interview was aired as scheduled.
The same day, February 3, 2005, Russian media reported that Shamil Basayev has been killed. It was the 6th such report about Basayev's demise since 1999.
On August 2, 2005, Moscow banned journalists from U.S. television channel ABC from working in Russia after the channel broadcast an interview with Shamil Basayev.

see Shamil Basayev pictures
Life of Shamil Basayev
---

Download
Version: MPEG
File Size: 542 MB

Маджлис Кабардино-Балкарского Сектора Кавказского Фронта
---

Просмотреть
Шамиль Басаев: «Сегодня воюет весь чеченский народ!»

---

Просмотреть

Заявление Абдаллах Шамиля Абу Идриса 6 февраля 2005 г.

---

Просмотреть
Интервью Шамиля Басаева каналу Channel 4 News

---

Просмотреть
Шамиль Абу-Идрис: "Нохчийн къоме кхайкхам"

---

Просмотрет
Интервью Шамиля Басаева (февраль 2001г.)
---

Просмотреть
Часть 1,
Часть 2,
Часть 3,
Часть 4,
Часть 5
Интервью Басаева (апрель 2001г.)
---

Просмотреть
Часть 1,
Часть 2,
Часть 3,
Часть 4,
Часть 5
Интервью Шамиля Басаева
---

Просмотреть
Часть 1,
Часть 2,
Часть 3
Interview of Shamil Basayev (may 2002) - arab
---

Download Now
Part 1,
Part 2,
Part 3